Generic specialist editorial
Dr Damien Daniel Hinsinger, Alliance for Conservation Tree Genomics, Pha Tad Ke Botanical Garden, Luang Prabang, Laos
The genus Castanopsis (D. Don) Spach (Fagaceae), commonly called chinquapin or chinkapin (the name is also sometimes applied to Chrysolepis species in USA), comprises 110-134 species (Li et al., 2015), which are restricted to tropical and subtropical eastern Asia (from Japan to Indonesia), with some of them very common in subtropical forests. About half of the species are found in China, and 30 spp. are endemic (Li et al., 2015), in a wide range of habitat types. They are often keystone species in the ecosystem, and could be locally abundant, despite several species being threatened (Hinsinger & Strijk, 2015). Castanopsis species commonly occur in Fagales-dominated montane forests as well as in laurel forests (Laurasilva). Except in calcareous soils, they grow on many soil types, and several species can accommodate podsolic, peat bog, swamp and other acidic or wet soils, or even poor dry soils. They are often used for their valuable wood, but the most important use for Castanopsis is the lignite extract from Oligocene-Miocene boundary deposits, consisting in the plant community Castanopsietum oligo-miocenicum (Gee et al., 2003). All studied species are diploid (2n=24, the basal number of chromosomes in Fagaceae) (Chokchaichamnankit et al., 2007), with genome sizes (1C values) ranging from 0.98 to 1.18 pg (Chen et al., 2014).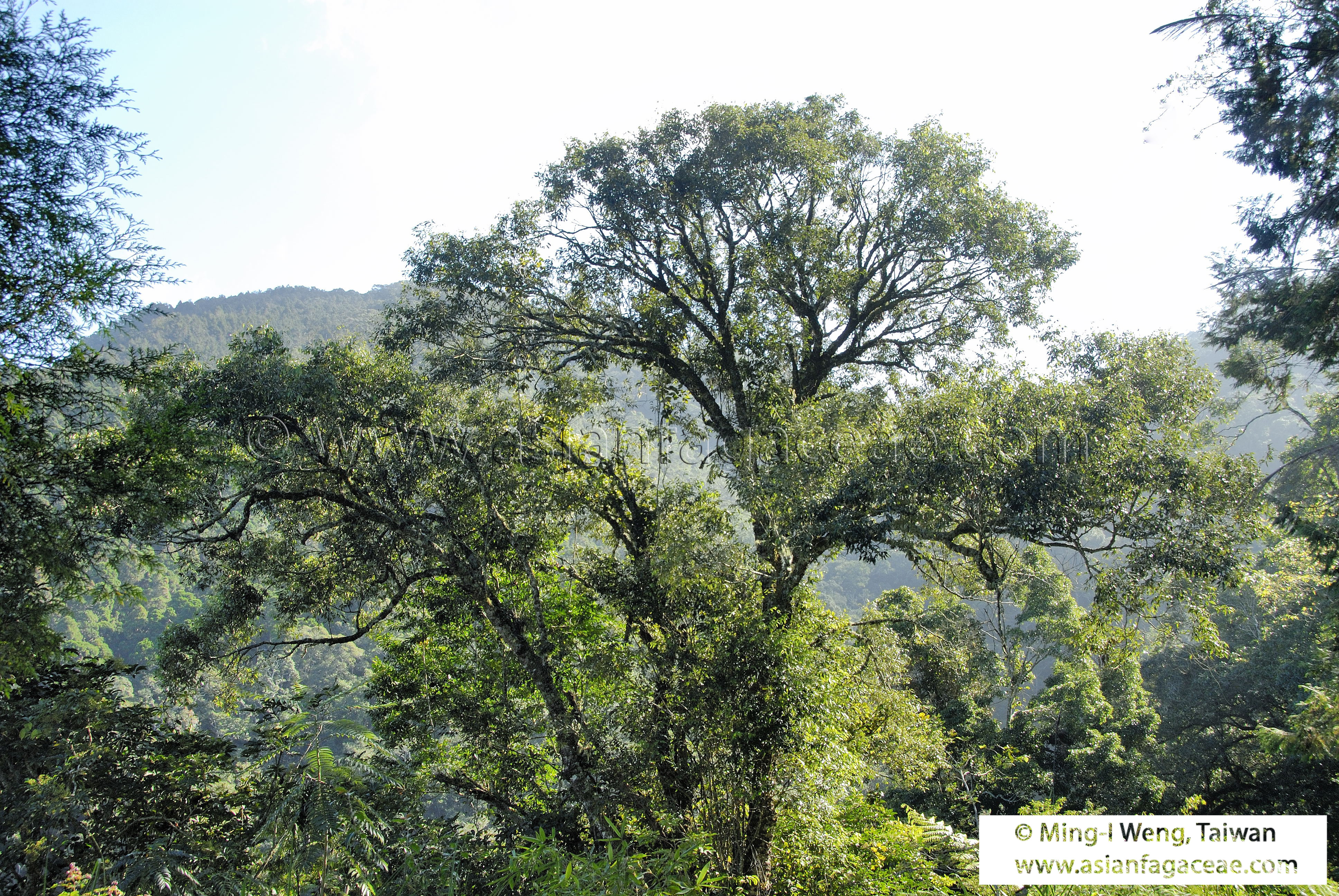 They are usually large shrubs or small trees, and leaves of most of the species are tough, sclerotized with a thick cuticula. Leaves can be dentate or smooth, with a usual reddish lower (adaxial) face and green upper (abaxial) face. Flowers are unisexual, with male flowers borne in erect catkins. Clusters of female flowers produce a single seed each, developing in a typical Fagaceae-like nut. The cupule is spiny (like in Castanea) with diagnostic morphological features according to species. This diversity in cupule morphology is thought to be involved in protection of the nut against predator (Wang et al., 2016).
The fossil record of Castanopsis is rich (Liu et al. 2009; Oh & Manos 2008), with more than 25 records from the Paleocene (66.0-56.0 mya) to the Miocene (23.03-5.332 mya) (Liu & Zhou 2006; Wu et al. 2014; Li et al. 2015), potentially even older, with Castanopsis-like pollens from the late Cretaceous [Cenomanian age: 93.9-100.5 mya, (Gao et al. 1999)]. The oldest unambiguous fossil in the genus is a fruit from the early Eocene of North America (Manchester, 1994). In Europe, middle Eocene lignite deposits of Germany gave the oldest record (44.3 Ma; Mai, 1976), with the characteristic presence of several nuts per cupule, as found in modern Castanopsis (Mai, 1976). Several other fossils were found from Eocene to Miocene in Europe (see Sadowski et al. 2018 for a review). A pollen fossil, similar to Castanopsis cuspidata, has been described from the middle Eocene of western Greenland. It showed diagnostic ornamentation not found in other Fagaceae, thus characteristic of extant Castanopsis (Sadowski et al. 2018). This fossil distribution suggests a large distribution of the genus in Northern Hemisphere as old as the middle Eocene. However, a recently described fossil from early Eocene of Patagonia (52 mya, Wilf et al., 2019) reopens the questions surrounding the historical biogeography of the genus, suggesting either an origin of the genus in the Southern Hemisphere, or an early (Eocene) intercontinental distribution in both Hemispheres.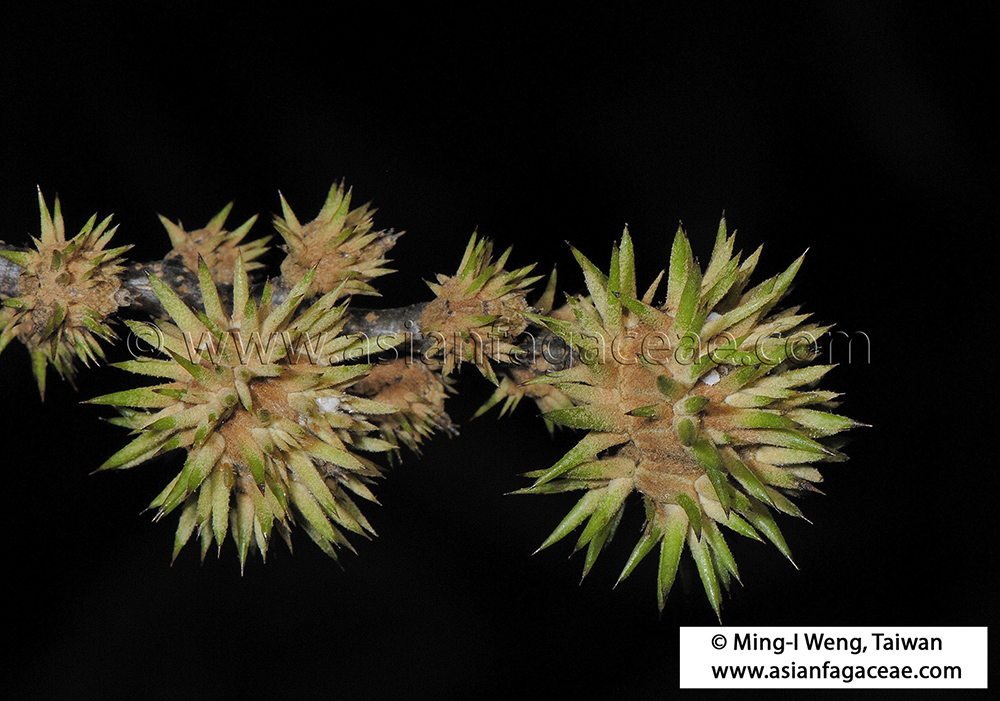 Due its economical and ecological importance, several studies have been conducted for conservation purposes (Cheng et al., 2005; He et al., 2013; Yamada et al., 2006), intraspecific phylogeographic studies (Cheng et al., 2005; Li et al., 2007; Yamada et al., 2006) in addition to physiological studies (Chu and Ng, 2003; Hiroki and Ichino, 1998; Nanami et al., 2004) in Castanopsis. But a phylogenetic framework is still lacking for the genus (but see Liu et al. 2009 for a morphological phylogenetic hypothesis).
Genomic resources are scarce in the genus, with shotgun sequencing data for C. indica and C. echinocarpa. Plastomes have been generated for 4 species (C. concinna, C. echinocarpa, C. hainanensis and C. sclerophylla).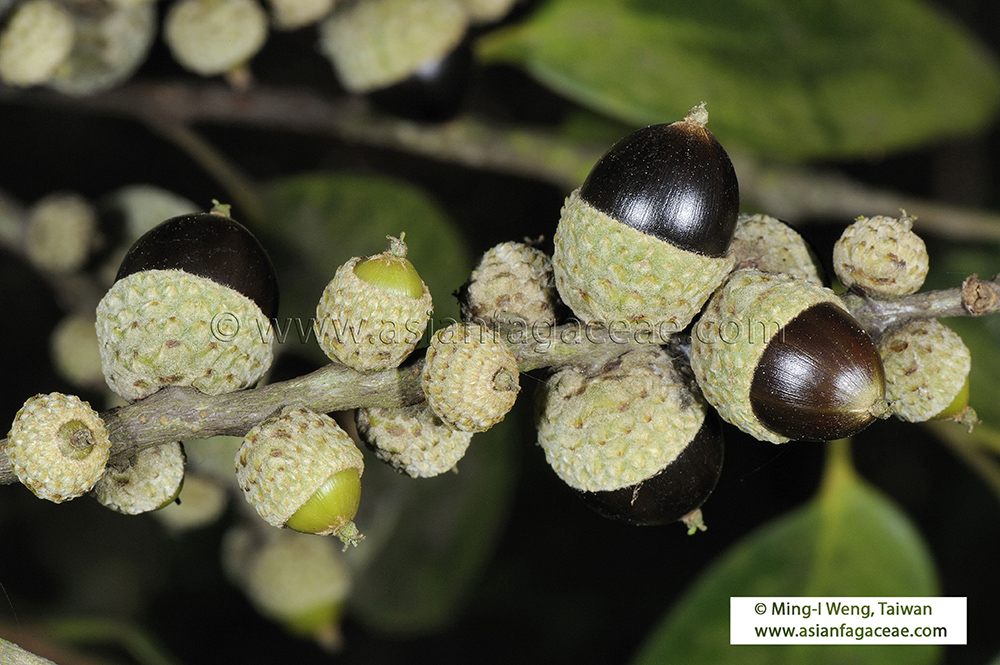 The evolution of reproductive traits (mainly the structure of cupules) have been studied at the Fagaceae family level (Manos et al., 2001), revealing complex patterns, especially in the genus Castanopsis, where a transition from a dichasial cupule where pistillate flowers and subsequent fruits are surrounded by a valvate structure to a flower cupule where single pistillate flower and subsequent fruit is surrounded by valvate or valveless structure occurred (Oh and Manos, 2008). However, without a phylogenetic framework for the genus, it remains unclear if it is really a transition, or a parallel evolution. In addition, if reticulate evolution or hybridisation events occurred among species, the scored patterns for life history traits could be confusing. Finally, Castanopsis species are found in contrasted environments, ranging from temperate to tropical climates, questioning the phylogenetic niche conservatism theory (Wiens et al., 2010).
©www.asianfagaceae.com 2019
References
Chen, SC., Cannon, C.H., Kua, CS. et al. Tree Genetics & Genomes (2014) 10: 977. https://doi.org/10.1007/s11295-014-0736-y
Cheng, Y.P., Hwang, S.Y., Lin, T.P., 2005. Potential refugia in Taiwan revealed by the phylogeographical study of Castanopsis carlesii Hayata (Fagaceae). Mol. Ecol. 14, 2075–2085. doi:10.1111/j.1365-294X.2005.02567.x
Chokchaichamnankit, P., Chulalaksananukul, W., Phengklai, C., Anamthawat-Jonsson, K., 2007. Karyotypes of some species of Castanopsis, Lithocarpus and Quercus (Fagaceae) from Khun Mae Kuong Forest in Chiang Mai province, northern Thailand. Thai For. Bull. 35, 38–44.
Chu, K.T., Ng, T.B., 2003. Isolation of a large thaumatin-like antifungal protein from seeds of the Kweilin chestnut Castanopsis chinensis. Biochem. Biophys. Res. Commun. 301, 364–370. doi:10.1016/S0006-291X(02)02998-4
Gao, R., Zhao, C., Qiao, X., Zheng, Y., Yan, F., Wan, C., 1999. Cretaceous oil strata palynology from Songliao Basin, Geological. ed. Beijing.
Gee, C.T., Sander, P.M., Petzelberger, B.E.M., 2003. A Miocene rodent nut cache in coastal dunes of the Lower Rhine Embayment, Germany. Palaeontology 46, 1133–1149. doi:10.1046/j.0031-0239.2003.00337.x
He, J., Li, X., Gao, D., Zhu, P., Wang, Z., Wang, Z., Ye, W., Cao, H., 2013. Topographic effects on fine-scale spatial genetic structure in Castanopsis chinensis Hance (Fagaceae). Plant Species Biol. doi:10.1111/j.1442-1984.2011.00365.x
Hinsinger, D.D. & Strijk, J.S., 2015. Complete chloroplast genome sequence of Castanopsis concinna (Fagaceae), a threatened species from Hong Kong and South-Eastern China. Mitochondrial DNA, pp.1–2.
Hiroki, S., Ichino, K., 1998. Comparison of growth habits under various light conditions between two climax species, Castanopsis sieboldii and Castanopsis cuspidata, with special reference to their shade tolerance. Ecol. Res. 13, 65–72. doi:10.1046/j.1440-1703.1998.00243.x
Li, J., Ge, X.J.J., Cao, H.L.L., Ye, W.H.H., 2007. Chloroplast DNA diversity in Castanopsis hystrix populations in south China. For. Ecol. Manage. 243, 94–101. doi:10.1016/j.foreco.2007.02.012
Li, R., Sun, B., Wang, Q., Ma, F., Xu, X., Wang, Y., Jia, H., 2015. Two new Castanopsis (Fagaceae) species based on cupule and foliage from the upper Miocene of eastern Zhejiang, China. Plant Syst Evol 301, 25–39. doi:10.1007/s00606-014-1051-7
Liu, M., Zhou, Z., 2006. Modern and geological distribution of Castanopsis (Fagaceae) (in Chinese). Acta Bot. Yunnanica 28, 223–235.
Liu, M.Q., Deng, M., Zhou, Z.K., 2009. Taxonomic and ecological implications of leaf cuticular morphology in Castanopsis, Castanea, and Chrysolepis. Plant Syst. Evol. 283, 111–123. doi:10.1007/s00606-009-0220-6
Manchester, S. R. 1994. Fruits and seeds of the middle Eocene Nut Beds Flora, Clarno Formation, Oregon. Palaeontographica Americana 58: 1–205.
Mai, D. H. 1976. Fossile Früchte und Samen aus dem Mitteleozän des Geiseltales. InZentral Geologisches Institut [ed.], The Eocene flora of the Geiseltal, Abhandlungen des Zentral Geologischen Instituts 26, 93–149. Akademie Verlag, Berlin, Germany [in German with English abstract].
Manos, P.S.., Zhou, Z.‐K., Cannon, C.H.., 2001. Systematics of Fagaceae : Phylogenetic Tests of Reproductive Trait Evolution. Int. J. 162, 1361–1379. doi:10.1086/322949
Nanami, S., Kawaguchi, H., Tateno, R., Li, C., Katagiri, S., 2004. Sprouting traits and population structure of co-occurring Castanopsis species in an evergreen broad-leaved forest in southern China. Ecol. Res. 19, 341–348. doi:10.1111/j.1440-1703.2004.00643.x
Oh, S.-H., Manos, P.S., 2008. Molecular Phylogenetics and Cupule Evolution in Fagaceae as Inferred from Nuclear CRABS CLAW Sequences. Taxon 57, 434–451.
Sadowski, E. M., Hammel, J. U., & Denk, T. (2018). Synchrotron X‐ray imaging of a dichasium cupule of Castanopsis from Eocene Baltic amber. American journal of botany, 105(12), 2025-2036.
Wang, Z., Zhang, Y., Zhang, D., Li, J., Yi, X., 2016. Nutritional and defensive properties of Fagaceae nuts dispersed by animals: a multiple species study. Eur. J. For. Res. 135, 911–917. https://doi.org/10.1007/s10342-016-0983-6
Wiens, J.J., Ackerly, D.D., Allen, A.P., Anacker, B.L., Buckley, L.B., Cornell, H. V., Damschen, E.I., Jonathan Davies, T., Grytnes, J.A., Harrison, S.P., Hawkins, B. a., Holt, R.D., McCain, C.M., Stephens, P.R., 2010. Niche conservatism as an emerging principle in ecology and conservation biology. Ecol. Lett. 13, 1310–1324. doi:10.1111/j.1461-0248.2010.01515.x
Wilf, P., Nixon, K. C., Gandolfo, M. A., & Cúneo, N. R. (2019). Eocene Fagaceae from Patagonia and Gondwanan legacy in Asian rainforests. Science, 364(6444), eaaw5139.
Wu, J.-Y., Ding, S.-T., Li, Q.-J., Zhao, Z.-R., Dong, C., Sun, B.-N., 2014. A new species of Castanopsis (Fagaceae) from the upper Pliocene of West Yunnan, China and its biogeographical implications. Palaeoworld 23, 370–382. doi:10.1016/j.palwor.2014.10.005
Yamada, H., Ubukata, M., Hashimoto, R., 2006. Microsatellite variation and differentiation among local populations of Castanopsis species in Japan. J. Plant Res. 119, 69–78. doi:10.1007/s10265-005-0242-2
Generic global distribution map (including naturalised and cultivated sites)
Validly published species:
Castanopsis acuminatissima (Blume) A.DC. Read more
Castanopsis amabilis W.C.Cheng & C.S.Chao Read more
Castanopsis annamensis Hickel & A.Camus Read more
Castanopsis argentea (Blume) A.DC. Read more
Castanopsis argyrophylla King ex Hook.f. Read more
Castanopsis arietina Hickel & A.Camus Read more
Castanopsis armata (Roxb.) Spach Read more
Castanopsis birmanica A.Camus Read more
Castanopsis boisii Hickel & A.Camus Read more
Castanopsis borneensis King Read more
Castanopsis brevispinula Hickel & A.Camus Read more
Castanopsis buruana Miq. Read more
Castanopsis calathiformis (Skan) Rehder & E.H.Wilson Read more
Castanopsis cambodiana A.Chev. Read more
Castanopsis carlesii (Hemsl.) Hayata Read more
Castanopsis castanicarpa (Roxb.) Spach Read more
Castanopsis catappifolia King ex Hook.f. Read more
Castanopsis ceratacantha Rehder & E.H.Wilson Read more
Castanopsis cerebrina (Hickel & A.Camus) Barnett Read more
Castanopsis chapaensis Luong Read more
Castanopsis chevalieri Hickel & A.Camus Read more
Castanopsis chinensis (Spreng.) Hance Read more
Castanopsis choboensis Hickel & A.Camus Read more
Castanopsis chunii W.C.Cheng Read more
Castanopsis clarkei King ex Hook.f. Read more
Castanopsis clemensii Soepadmo Read more
Castanopsis concinna (Champ. ex Benth.) A.DC. Read more
Castanopsis costata (Blume) A.DC. Read more
Castanopsis crassifolia Hickel & A.Camus Read more
Castanopsis cryptoneuron (H.Lév.) A.Camus Read more
Castanopsis curtisii King Read more
Castanopsis cuspidata (Thunb.) Schottky Read more
Castanopsis delavayi Franch. Read more
Castanopsis densinervia Soepadmo Read more
Castanopsis densispinosa Y.C.Hsu & H.Wei Jen Read more
Castanopsis diversifolia (Kurz) King ex Hook.f. Read more
Castanopsis dongchoensis Hickel & A.Camus Read more
Castanopsis dongnaiensis Son & Ngoc Read more
Castanopsis echinocarpa Miq. Read more
Castanopsis echinophora A.Camus Read more
Castanopsis endertii Hatus. ex Soepadmo Read more
Castanopsis evansii Elmer Read more
Castanopsis eyrei (Champ. ex Benth.) Hutch. Read more
Castanopsis faberi Hance Read more
Castanopsis fargesii Franch. Read more
Castanopsis ferox (Roxb.) Spach Read more
Castanopsis fissa (Champ. ex Benth.) Rehder & E.H.Wilson Read more
Castanopsis fleuryi Hickel & A.Camus Read more
Castanopsis fordii Hance Read more
Castanopsis formosana (Skan) Hayata Read more
Castanopsis foxworthyi Schottky Read more
Castanopsis fulva Gamble Read more
Castanopsis gamblei Hickel & A.Camus Read more
Castanopsis glabra Merr. Read more
Castanopsis glabrifolia J.Q.Li & Li Chen Read more
Castanopsis grandicicatricata N.H.Xia & D.H.Vuong Read more
Castanopsis griffithii A.Camus Read more
Castanopsis guinieri A.Camus Read more
Castanopsis hainanensis Merr. Read more
Castanopsis harmandii Hickel & A.Camus Read more
Castanopsis hsiensiui J.Q.Li & Li Chen Read more
Castanopsis hupehensis C.S.Chao Read more
Castanopsis hypophoenicea (Seemen) Soepadmo Read more
Castanopsis indica (Roxb. ex Lindl.) A.DC. Read more
Castanopsis inermis (Lindl.) Benth. & Hook.f. Read more
Castanopsis javanica (Blume) A.DC. Read more
Castanopsis jiangfenglingensis M.S. Duan Read more
Castanopsis jinpingensis J.Q.Li & Li Chen Read more
Castanopsis johorensis Soepadmo Read more
Castanopsis jucunda Hance Read more
Castanopsis kawakamii Hayata Read more
Castanopsis kweichowensis Hu Read more
Castanopsis lamontii Hance Read more
Castanopsis lanceifolia (Oerst.) Hickel & A.Camus Read more
Castanopsis lecomtei Hickel & A.Camus Read more
Castanopsis longipes A.Camus Read more
Castanopsis longipetiolata Hickel & A.Camus Read more
Castanopsis longispina (King ex Hook.f.) C.C.Huang & Y.T.Zhang Read more
Castanopsis lucida (Nees) Soepadmo Read more
Castanopsis malaccensis Gamble Read more
Castanopsis malipoensis C.C.Huang ex J.Q.Li & Li Chen Read more
Castanopsis megacarpa Gamble Read more
Castanopsis mekongensis A.Camus Read more
Castanopsis microphylla Soepadmo Read more
Castanopsis motleyana King Read more
Castanopsis multiporcata N.H.Xia & D.H.Vuong Read more
Castanopsis namdinhensis Hickel & A.Camus Read more
Castanopsis neocavaleriei A.Camus Read more
Castanopsis nephelioides King ex Hook.f. Read more
Castanopsis nhatrangensis Hickel & A.Camus Read more
Castanopsis ninhhoensis Hickel & A.Camus Read more
Castanopsis oblonga Y.C.Hsu & H.Wei Jen Read more
Castanopsis oleifera G.A.Fu Read more
Castanopsis oligoneura Soepadmo Read more
Castanopsis orthacantha Franch. Read more
Castanopsis ouonbiensis Hickel & A.Camus Read more
Castanopsis oviformis Soepadmo Read more
Castanopsis paucispina Soepadmo Read more
Castanopsis pedunculata Soepadmo Read more
Castanopsis philipensis (Blanco) Vidal Read more
Castanopsis phuthoensis Luong Read more
Castanopsis pierrei Hance Read more
Castanopsis piriformis Hickel & A.Camus Read more
Castanopsis platyacantha Rehder & E.H.Wilson Read more
Castanopsis poilanei Hickel & A.Camus Read more
Castanopsis pseudohystrix Phengklai Read more
Castanopsis psilophylla Soepadmo Read more
Castanopsis purpurea Barnett Read more
Castanopsis purpurella (Miq.) N.P.Balakr. Read more
Castanopsis qiongbeiensis G.A.Fu Read more
Castanopsis remotidenticulata Hu Read more
Castanopsis rhamnifolia (Miq.) A.DC. Read more
Castanopsis ridleyi Gamble Read more
Castanopsis rockii A.Camus Read more
Castanopsis rufotomentosa Hu Read more
Castanopsis schefferiana Hance Read more
Castanopsis sclerophylla (Lindl. & Paxton) Schottky Read more
Castanopsis scortechinii Gamble Read more
Castanopsis selangorensis A.Camus Read more
Castanopsis semifabri X.M.Chen & B.P.Yu Read more
Castanopsis siamensis Duanmu Read more
Castanopsis sieboldii (Makino) Hatus. Read more
Castanopsis symmetricupulata Luong Read more
Castanopsis tcheponensis Hickel & A.Camus Read more
Castanopsis tessellata Hickel & A.Camus Read more
Castanopsis thaiensis Phengklai Read more
Castanopsis tibetana Hance Read more
Castanopsis tonkinensis Seemen Read more
Castanopsis torulosa Hickel & A.Camus Read more
Castanopsis touranensis Hickel & A.Camus Read more
Castanopsis tranninhensis Hickel & A.Camus Read more
Castanopsis tribuloides (Sm.) A.DC. Read more
Castanopsis trichocarpa G.A.Fu Read more
Castanopsis trinervis (H.Lév.) A.Camus Read more
Castanopsis tungurrut (Blume) A.DC. Read more
Castanopsis undulatifolia G.A.Fu Read more
Castanopsis wallichii King ex Hook.f. Read more
Castanopsis wattii (King ex Hook.f.) A.Camus Read more
Castanopsis wenchangensis G.A.Fu & C.C.Huang Read more
Castanopsis wilsonii Hickel & A.Camus Read more
Castanopsis wuzhishanensis G.A.Fu Read more
Castanopsis xichouensis C.C.Huang & Y.T.Chang Read more